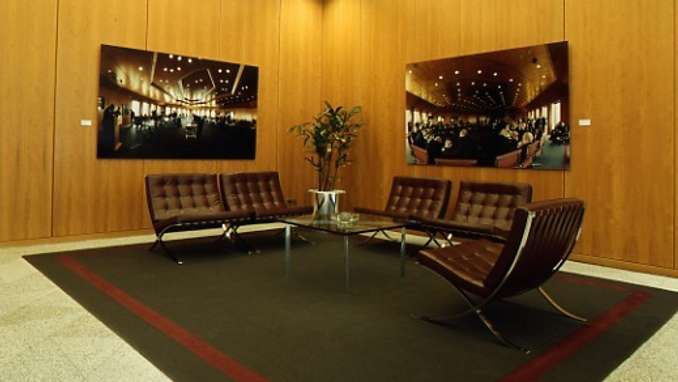 THE COLOUR OF MONEY
— Global
The past auction season in London witnessed records being broken at a steady clip as collectors scooped up contemporary art. In February, Sotheby's tallied €67m in a single evening. Then in June its gavel fell on another €107m of art works, and Damien Hirst became enshrined as the world's most expensive living artist. Meanwhile, Christie's registered €137m thanks to a boost from its sale of contemporary pieces.
In recent years contemporary art has become white-hot, with events such as Art Basel and London's Frieze Art Fair spawning satellite events. Cities are allowing ever more elaborate installation pieces to be displayed in public. Corporations, as is well known, are also catching on. "Today, nearly all banks are buying contemporary art," says Guido Guerzoni, a professor of cultural management at Bocconi University in Milan. "It's the cool thing to do."
Guerzoni estimates that 20 per cent of acquisitions are made by financial services companies – the art fairs themselves do not release figures. Many banks now have in-house curators who organise exhibitions and keep an eye on rising artists. Also, banks have raised their sponsorship profiles at museums and at major cultural events such as the Venice Biennale.
Financial companies collecting art is nothing new. In the 1960s, the US banker and philanthropist David Rockefeller embarked on a campaign of acquisitions when he was at Chase Manhattan Bank. What has changed, however, is the way in which art is being used to communicate with the public and, in particular, with existing or potential clients.
"Before, you had a bank director who collected for himself, or a piece of sculpture was bought to decorate the lobby," says Guerzoni. "Now it's about creating a presence inside the art world. It's a marketing strategy, since banks want to be seen as being in step with the times."
Merrill Lynch and Capgemini's World Wealth Report 2007 estimates that 20 per cent of the world's high net-worth individuals – those with at least a million dollars in assets – are interested in collecting. Banks perceive an opportunity.
Take the Swiss bank BSI (Banca della Svizzera Italiana). In 2000, it decided to reposition itself in the minds of customers by creating an art collection from scratch. It asked French conceptual artist Daniel Buren and other recognised figures from the 1960s art scene to create installations and wall-paintings in corridors and meeting rooms, turning its Lugano head office into a gallery space.
"Our private clients come two to three times a year to go over their portfolio. The collection was a great calling card for us since clients could associate us more directly with art," says Silvia Panerai, manager of BSI Art.
With help from its Italian curator, who is based in Berlin and travels constantly to keep up with trends, BSI stays on top of the art world. It collects pieces by artists who broke onto the scene in the early 1990s, such as Franz Ackermann and Olafur Eliasson. "Clients who were not interested in buying art are coming to us and asking for art-banking services." Although Panerai won't disclose figures, the spike in interest prompted BSI to offer an advisory service to help clients purchase art works.
Whereas Citigroup and a few others pioneered art-banking, now many firms have introduced art advisory as part of their wealth management service. Observers see a link to the art market's recent boom. "People are looking to invest and banks are trying to get close to them. The message to the client is: we have art collections, we're familiar with art and we also do wealth management, ie, art advisory," says Guerzoni.
Banks' cultural footprints are also being boosted by sponsorship deals with art fairs. UBS and Deutsche Bank are the main sponsors of Art Basel and Frieze, respectively. Both companies just make it into the top 50 of ArtReview magazine's list of the 100 most powerful figures in art. For leading wealth manager UBS, Art Basel, which is billed as the "premier" contemporary art fair, offers it access to art collectors and galleries. In 1998, four years after it began to forge links with the event, the Zürich-based bank launched its acclaimed art-banking unit.
To further improve its position among wealthy collectors, UBS hired art consultant Thea Westreich, who runs Thea Westreich Art Advisory Services in New York. She was brought in to raise the bank's US presence and promote its art collection, which today includes many works the bank acquired when it bought stockbrokers PaineWebber in 2000.
"Why do businesses collect?" asks Westreich. "To attract clients." She suggested UBS link up with New York's MOMA – the bank has exhibited there and donated pieces to it too. At the Messe Basel exhibition centre, where Art Basel is held each June, Westreich organised lectures and group tours for blue-chip UBS clients to get them up to speed. "They were interested in how to reach their high net-worth client base and how to keep those high net-worth customers happy."
Another bank aiming to raise its cultural profile is Italy's largest, UniCredit. Besides the recent buy of 500 avant-garde works by Italian artists such as Vanessa Beecroft, the bank has associated its name with leading cultural festivals. At this year's Venice Biennale it financed "Democrazy", a video installation by Francesco Vezzoli, which critiqued US political campaigning ads, and used Sharon Stone and French philosopher Bernard-Henri Lévy as spoof candidates.
"It's no longer just about artists, galleries and museums. It's getting into daily life, design, magazines," says Catterina Seia, head of the UniCredit & Art project. Founded in 1998, through a series of mergers, UniCredit has already developed one of Italy's first in-house art advisory services. It brought in the former head of Christie's Italian unit to oversee operations as it has steadily been getting more requests for the service.
One bank that has long invested in contemporary art is Deutsche Bank. The company says it has the world's largest corporate collection with more than 50,000 pieces acquired from hundreds of artists; 90 per cent of the works are kept on view in offices and at its Frankfurt headquarters, where artists such as Joseph Beuys have floors dedicated to them.
Starting in the late 1970s, the firm began purchasing contemporary art on a large scale, focusing first on German artists. Today it allocates €7m a year for art projects, including a joint-venture, the Deutsche Guggenheim gallery in Berlin. "Our philosophy is to try and lead people into art, and I think we're still at the tip of the iceberg," says Alistair Hicks, British art advisor for the bank. "We buy so much art, there's the perception of our [advisory] service as an investment tool."
The bank closely monitors the art boom but Hicks says its in-house curators are not interested in what is "hot". "We try to support artists and the market. On the whole we don't buy expensive art, most pieces average at €1,100."
Cultural monitor Hans Ulrich Obrist, co-director of the Serpentine Gallery in London, says: "Banks need a fine-tuned focus that's both local and global. It's not only about a speculative strategy. The partnerships with the art fairs are as important as the bank's own collecting."
Obrist thinks Deutsche Bank offers a unique model. "Most companies when they enter the art scene seem to be doing the same things. That's why Deutsche is interesting in the variety it offers." He cites its support of projects like Karin Sander's "wordsearch", which appeared in the New York Times and included a single word from each of the languages spoken in New York which was then translated into the other languages.
"I think that sustainability and legacy are important. It would be better for the banks to have a long-term view, a partnership with a museum. Remember, it's not a sprint but a marathon."
Banking on art
Wealthy individuals are getting bitten by the art bug. But with fast-paced lifestyles and fears of being sold a fake, a lot of collectors call in the experts before opening their chequebook. Many turn to art advisors such as Karl Schweizer of UBS. Schweizer runs the Swiss firm's Art Banking & Numismatics unit. Rated number one by Euromoney magazine, Schweizer's team assists with research, valuations, insurance, even transport. But most importantly, they check the collector is genuinely interested. "Art is a risky asset," says Schweizer. "You need to imagine 15 years ahead and whether you will still love the piece."
Safe hands
The art of keeping private collections private
With so many banks holding extensive art collections, you would think that their vaults would be stacked high with paintings by Matisse and Picasso. Not necessarily. Fine-art storage is a niche business, and even the banks often turn to specialists.
UniCredit, Italy's biggest bank, outsources to Open Care, a consultancy that provides top protection for fine art. Opened in 2003, the facility's main Milan vault lies under what used to be Europe's largest ice-skating rink, which the company now uses to host events.
The 2,300 sq m vault complex is buried 15m underground and has four levels of electronic surveillance, including state-of-the-art anti-vibration and motion sensors. Movements are tracked by CCTV cameras and staff use walkie-talkies on a dedicated frequency assigned to them by the Italian government. Some 15 years of planning went into the vault's construction. Its 4,500kg door was built by the country's leading manufacturer of safes, whose clients include the Bank of Italy.
"In this business, if something goes wrong, you don't get a second chance with the client," says Michele Sbarra, head of security and an ex-Carabiniere.
Lined in super-thick concrete, the main vault has 180 private security deposits which range in size from 2 sq m to 60 sq m. Except for firearms and chemicals, clients can store whatever they like. For oversized pieces there are lockers that extend up to 500 sq m, as well as 1,200 smaller safe-deposit boxes.
Climate-control sensors monitor every corner to ensure temperature (17.8C) and humidity (55 per cent) remains stable. As art works are highly susceptible to water damage, fire suppression relies on tanks of aragonite, an inert gas that leaves no residue. Open Care also provides a 10,000 sq m art clinic for restorations and repairs in its adjoining facility. The upstairs floors are home to a team of 80 art historians, conservationists, restorers and curators. There is also a storage for keeping cool the fur coats of well-to-do Milanese ladies.
"We looked at other facilities in Europe that offer similar services to ours, but many outsource their activities. We do it all in-house," says Paolo Faina, head of business development. Clients' art works get picked up in the firm's climate-controlled vans whose engines can be shut down remotely if problems arise.
At the lab, technicians use tools ranging from simple brushes to microscopes and infrared reflectography. Everything from repairing picture frames to re-dyeing Renaissance tapestries and restoring antique chests-of-drawers is handled by in-house experts.
With revenues hitting €6m last year and the art market in overdrive, Open Care is looking to set up shop in London and Paris.